Four key areas have been identified as being critical to achieving the objectives of the machine asset management programme, and compliance with legislative requirements.
Physical condition. Inspection is the primary means of determining the physical condition of a structure, and can play a significant role in minimising structural failures, focusing maintenance and extending the life of the structure.
Regulatory compliance. For full regulatory compliance, materials handling machines should be well-engineered, built to industry standards, working within the design envelope. A key requirement of current legislation and standards is that owners must maintain documentation relating to the design, key risks, maintenance and operation of the machine, over its full lifecycle. It should be noted that full compliance to new design standards is only necessary where there have been significant changes to the design of the equipment, or where there are significant concerns (e.g. due to condition).
Protection systems. Critical safety devices (such as brakes, rail clamps, load limiting devices, limits) are essential to ensuring that the machine operates safely within its design envelope and should be correctly set, maintained and tested. The effectiveness of safety procedures, such as those for storm tie down, is also critical.
Change management. Materials handling facilities are a complicated combination of structure, mechanical components, electrical components and control system. A change to any one of the disciplines can have a significant effect on the other disciplines.  As such, effective change management is essential for the safe and efficient management of these facilities.
Industry best practice is for this information to be stored in a "Machine Book", which, is typically a directory on a network computer on site. A responsible person is typically assigned to manage and maintain the "Machine Book". The aim of the machine book is to:
Formalise the control of key information related to machine asset management.
Provide information for operations, maintenance and engineering personnel when setting priorities and developing business plans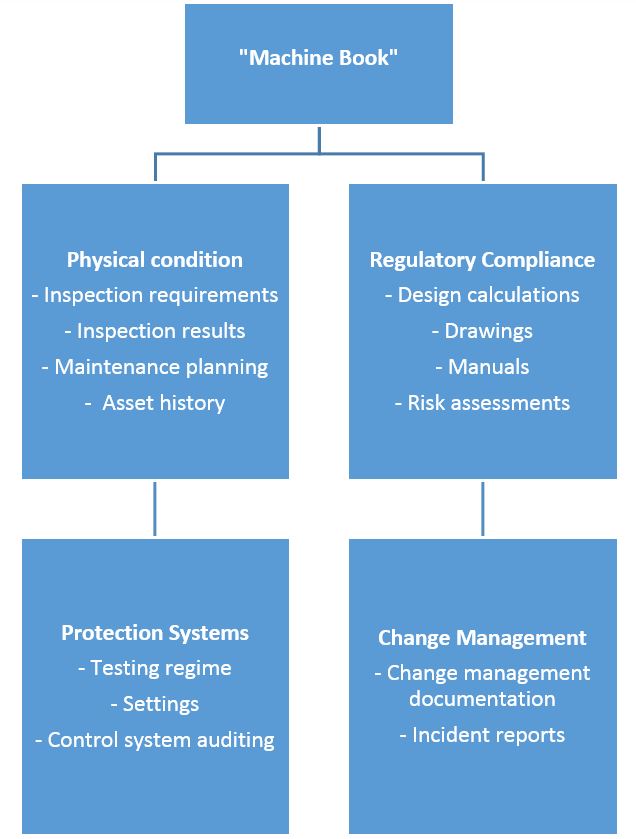 Key areas where further improvement is often required include:
Detail on inspection requirements (scopes) including clear inspection criteria and acceptability limits.
Detail on protection system tests / settings. All critical protection settings for the machines (e.g. brake torques, drive protection settings etc.) should be documented and regularly tested.
Control system auditing (e.g. Safety functions).
Ensure that design information (drawings, calculations etc.) is complete and accessible.